Current Study
This is a great community of people who like new friends at whatever stage in life you find yourself.
WE ARE CURRENTLY STUDYING THE BOOK OF JAMES
If you don't have a bible when you come to church one of our ushers will help you.
Location
located at the Bay Theater
6750 Main Street
Caseville, MI 48725
Sunday Services
9:30 AM & 11 AM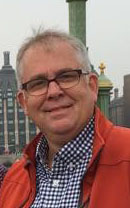 WORSHIP DURING ADVENT 
ADVENT REFLECTION #17: CHARLES SPURGEON 
Infinite, and an infant. 
Eternal, and yet born of a woman. 
Almighty, and yet hanging on a woman's breast. 
Supporting a universe, and yet needing to be 
carried in a mother's arms. 
King of angels, and yet the reputed son of Joseph. 
Heir of all things, and yet the carpenter's despised son. 
Other Scripture Referenced: 
Heb 10:24-25 
Romans 7:14-8:9