Details

Series: The Message 2017
Date:
Scripture: Ephesians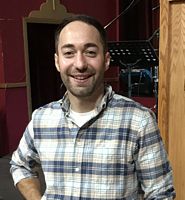 Greetings in the name of our Lord & Savior Jesus Christ,
Thank you for your prayers and support for the Belize mission team! We are there as we speak and ask that you continue to pray for us, for the church in Belize and for all who we will minister to (and have since we have been there). We are excited to share with what you what God has done when we return home! Please welcome this morning our former youth pastor, Dan Dickenson. He will be bringing God's word to you today and we pray you are richly blessed and equipped to do His will!
Pastor John & Ryan
Other Scripture Referenced:

John 15:1-5
Ephesians 1:3-10
Ephesians 1:13-14
Ephesians 1:16-23
Ephesians 2:6
Ephesians 2:21-22
Ephesians 3:1-13
Ephesians 4:1-3
Ephesians 4:10
Ephesians 4:15-16
Ephesians 4:24, 28, 32
Ephesians 5:1-2
Ephesians 5:21
Ephesians 5:15-16
Ephesians 6:10-12