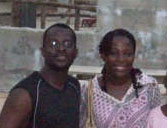 Greetings Dear Brothers and Sisters,
This morning our Missionary, Michael Turay from Freetown, Sierra Leone, West Africa will deliver to us God's is Word. Michael and John met in 1995 in The Gambia, West Africa where Michael served as Youth for Christ director. He invited John to perform his music to Government dignitaries there for a special Christmas program. Since then, they've shared in various evangelistic endeavors in both The Gambia and Sierra Leone, including the planting of the Rivers Edge in Regent, Sierra Leone.
This fall a team from church will go to preach the Gospel in the High Schools & Colleges Of Freetown as well as teach the youth, men & women of our sister church. We very much appreciate your prayers as we implement this large and complicated campaign.
Now let us prepare our hearts to hear Michael's preaching from Acts 5:1-4.


Your brother and…
Pastor John
Other Scripture Referenced…
Acts 4:32
Colossians 3:15
Jeremiah 15:16
1 Peter 5:8
Joshua 1:8
Psalm 19:11
Romans 12:2
John 15:1-17